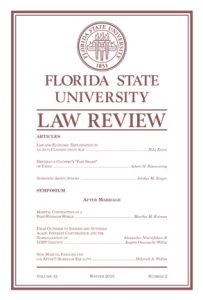 Each issue contains scholarly articles authored by academics, judges, clerks, and attorneys from around the globe, as well as pieces authored by current students of the College of Law. The Law Review is staffed and edited by second- and third-year students of the College of Law.
For information on becoming a member of the Florida State University Law Review, please visit our Prospective Members Page.
Cite As:
Cite this journal as FLA. ST. U. L. REV.
Errata:
Bring errors in this volume to the attention of the Editor-in-Chief. When appropriate, the Law Review will publish corrections.
---
Direct all copyright requests, advertising and business matters to Rebecca Maturo Editor-in-Chief.
Submit manuscripts through ExpressO, Scholastica, or by email to Cara Campbell, Executive Article Selection Editor.
Correspondence:
Address all correspondence to Florida State University Law Review, College of Law, Ausley House, 425 West Jefferson Street, Tallahassee, FL 32306-1601.
---
The views expressed in published material are those of the authors and do not necessarily reflect the policies or opinions of the Law Review, its editors and staff, or Florida State University. We welcome and will consider for publication letters to the editor about work appearing in the Law Review.